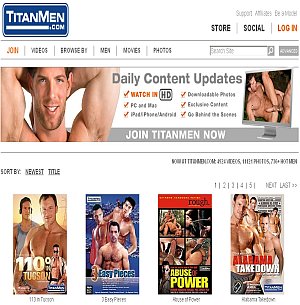 Just so we are clear, this isn't the VOD versions of Titan Men that I am looking at, but the regular membership site. A good value, hot and horny place to hang out with lots of varied guys who appear in exclusive movies from some of the industry's top studios. I noticed that the password I had been given by the site more or less spelled out 'Titan rocks' and it actually does.
Once inside you find a members' area that looks just as the tour did, and that is, I have to say, a bit white and bland. There are many good images as samples to set you on the right path, the menu makes navigation easy, there are search options and support links, and a site map at the bottom of the main page, so nothing makes your visit difficult here; it just looks rather white.
I found 1,316 videos over 64 index pages (which is not as many as the site states that it has) and these were all shown at 21 per page with good sized sample images. Click on to get to the viewing and you find a streaming version with three chocies of viewing from 270p to 480. With the more recent videos you find an HD stamp on the sample and then when you come to view you have the additional choice of webHD/540 and HD/720, so whichever one you take will depend on what your connection can handle.
Read the full Titan Men review in the LustyPuppy Reviews!