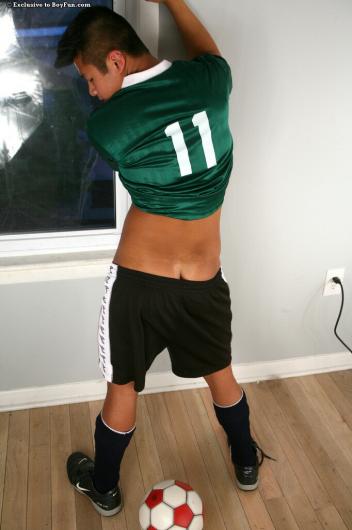 OK, so this soccer uniform isn't actually the best or spookiest Halloween costume this twink, Tyler, has ever worn; but man, don't you think that his peeking butt crack more than makes up for it? No doubt, his ass is mostly kept hidden from prying eyes like ours, so, it's really a quite a treat when Tyler does gives us a glimpse of his hot behind.
But let's not forget that aside from his nice ass, this Asian twink's got other things under that futbol uniform that would make you want to kiss him and make sweet love to him right away. Yes, I'm talking about his well-toned body and his nice twink cock. Personally, I'm ok with his ass alone, but since he's ready to show us everything, then I'm not complaining one bit.
Click on the picture if you want to see Tyler and the rest of his twink friends in uniforms or just posing completely naked for Lusty Puppy.