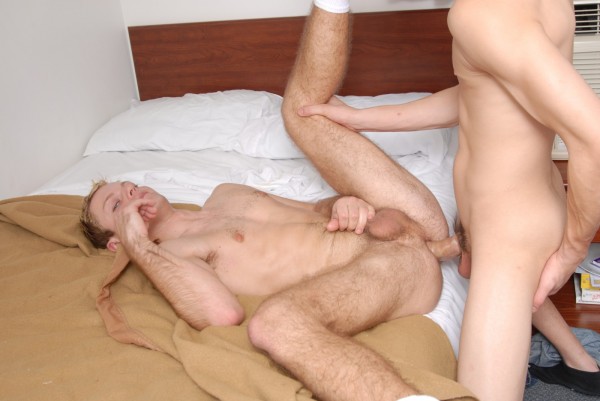 They're driving around in an SUV when they spot a cute young guy on the side of the road. They pull over, the window rolls down, and they proposition him on the spot. A wad of $20s is waved in his face and he can't resist the allure of money. He needs it bad and even though he's not gay and he's never been with a man he's going to take the leap to get that cash reward.
When they get back to the house he's put to work immediately and he takes to it with ease. He opens wide and sucks that dick as far down his throat as he can manage. He gags a little bit but he makes it feel good! He gets plowed in the ass eventually and that takes some time to finish up. He sold his bottom and he's going to have to wait until the top is done!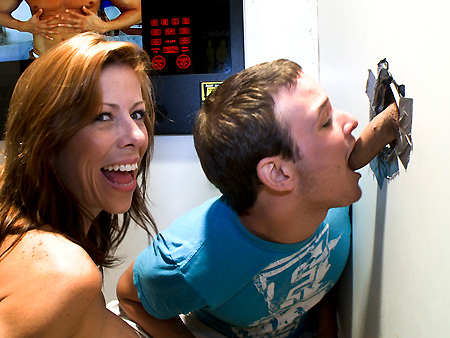 Description:
Ricky wants what he is owed, so we figured why not get a blow-job instead of money? He took the offer and headed to the back. Once he saw Alexis Faux he thought it definitely was an even trade! Blow-job from her.. why not? Too bad; you thought wrong. This guy got the best cock blowing of his life but Sean was the one paying the debt. Too funny. Enjoy!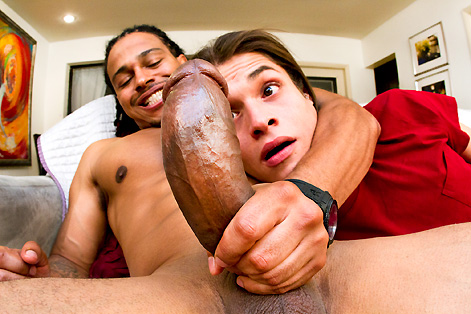 Description:
Today we have an architect that loves to design BIG buildings. Until today he has yet to experience what he likes to call the "biggest building ever". By the looks of his face and Castro's cock, he definitely seems really intimidated by the size of his structure, lol. Starting off with some great dick sucking, he almost looks at it as his first and last challenge, like King Kong ain't got nothing on me after this! He takes Castro's cock like a fucking champ, whether it's in his throat or his tight fucking ass, and says this is the most monumental thing that has ever happened to him. ANY TIME, BUDDY!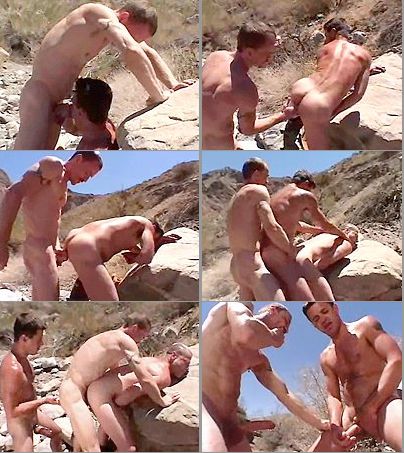 Three hot young guys with hard, muscular bodies are in the desert exploring their sexuality in ways they've never dreamed of. They're all naked and their muscles really do ripple and look exquisite in the video. The fun starts with oral as the guys give head to get hard and show just how lusty and sexy they can be.
There's also a spot of fisting to be found here and when you see a hand disappear inside an asshole it's special. When it's outdoors under the hot sun and the guys are starting to sweat and glisten it's perfection. They have hardcore anal sex with two of them getting fucked at once and there are three loads blown before the gay sex scene is over.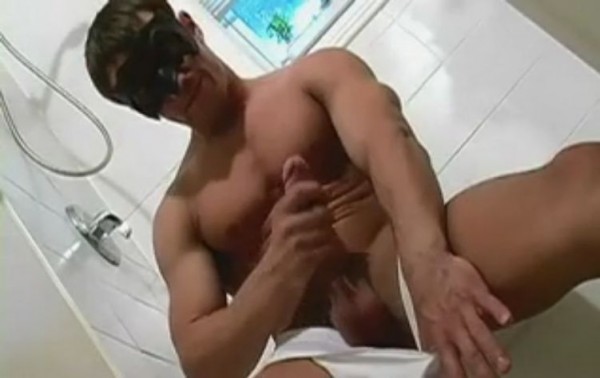 The exceptionally muscular man wears a mask in his bathroom because he doesn't want the world to know who he is. I can't imagine that would be too much of a problem for him based on how astoundingly good he looks in the solo video. First off, his body is perfect. Every muscle is well developed and his abs are a real standout.
Second, he has a really big cock. When he drops his underpants for the first time and it pops out your mind will be blown. That cock is huge! After he gets naked he stands in the bathroom and masturbates his cock while the camera gets us different gorgeous angles of his impressive schlong. Dicks that big are meant to be admired by all gay man on the planet.
Jesse Jacobs is stretched out on top of his pretty friend, Austin Parker. He butters up his bottom by pulling Austin's underwear down and swallowing his long knob. He switches gear, though, when he straddles Austin's chest and starts to fuck his mouth. When a wet mouth isn't enough, Jesse gets Austin on top of him to sit on his rod. But when he wants to semen, he's fucking Jesse's mouth again and shooting hot jizz all over his tongue.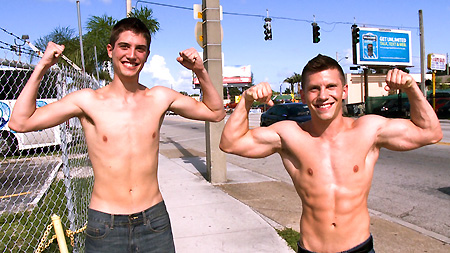 Description:
What's up, ladies and gents? Joey here, bringing you this week's Out in Public update. I'm chilling with my boy Riley and, as you all know, they all come to me to hook them up with some ass! Today I had to hook my boy up. We're out in the hood and this little white boy came out of nowhere (talk about out of place). He was all up in our business like we owed him money or something.. so I just went ahead and offered this kid some cash and I'm guessing he was in need because he didn't even hesitate at the offer! My friend found him cute, so it was all and poppin' after, if you know what I mean. STAY TUNED!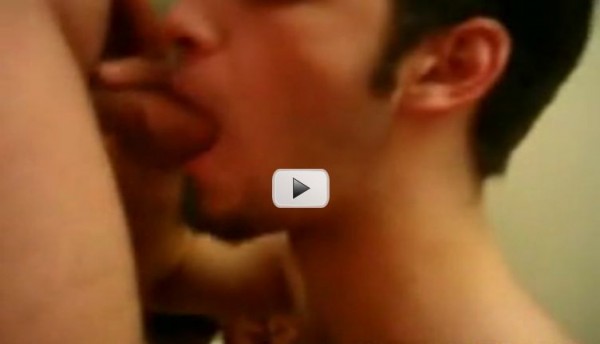 The guy holds the camera off to the side so he can get a profile view of his boy sucking on his cock. He's a little bit chubby and that makes the scene even sexier for some reason. The college amateur is on his knees and he moves up to the cock, opens wide, and gives a blowjob that is simple and beautiful. He moves his wet mouth back and forth on the hard cock, sucking as much down as he can.
His aim is to get the cock hard as a rock and throughout the clip the slender, hard-bodied cutie goes wild on it. He sucks, bobs, strokes, and more. He is a sucking machine that only wants to taste the sticky cum that will shoot from that dick meat. Much of the video is filmed POV style as the guy pulls the camera back up and gets a great view.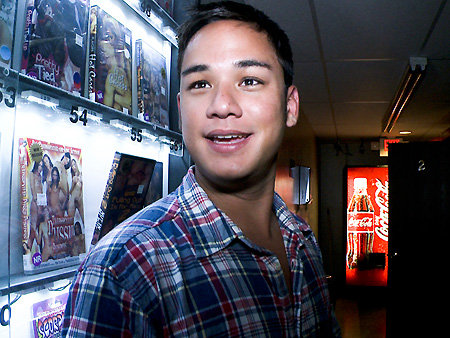 Description:
I had been waiting for Tallen in the parking lot until I went inside and found him in the adult store looking at DVDs already. Damn! He's impatient. Already telling me he's horny as fuck and wants a blow-job ASAP. What he wants he shall get. I took him back to the Ungloryhole room and let him have his way. Sticking his cock in the wall not knowing what or who's doing the sucking. That's the best kept secret about Ungloryhole. Enjoy!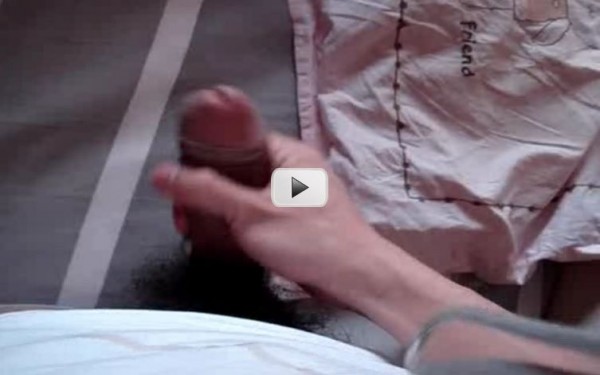 He has a camera and a cock and the Asian amateur wants to make a masturbation video. We welcome it! He takes his cock in hand and he gives it a good stroking with lusty intentions. It's actually pretty big and at one point he puts the camera on the ground beneath him so it points up and you can check out his veiny cock in full.
He has pretty thick pubic hair but it doesn't get in the way of the beautiful appreciation of his fantastic fuck stick. He fucks the couch cushions for a little bit and even rubs his cock all over a stuffed animal. This young Asian amateur likes to have fun and film it all. You get to see him blow his load before the scene is concluded and it does look delicious.